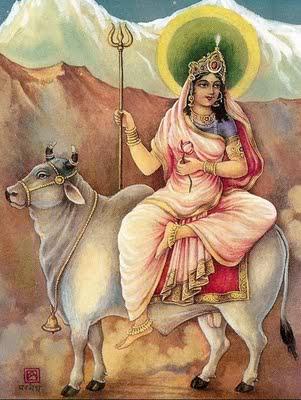 Navdurga means nine forms of Maa Durga. In Navratries every day One of these nine forms of Maa Durga is worshiped. Shailputri is the first form of Maa Durga. She is called Shail-putri because she was born as Himalaya's daughter.
Maa Shailputri is the absolute form of Mother Nature. She is also known as Goddess Parvati the consort of Lord Shiva & mother of Ganesha and Kartikeya. In the Navratra festival the worshiping Mother Goddess has a half moon in her forehead & she is holding a trident in her right hand & lotus flower in her left hand. She rides on mount Nandi a bull.
Maa Shailputri is also known as a dutiful daughter, the perfect wife.Sati married Lord Shiva, the ascetic, for love against the wishes of her powerful father, King Daksh. But unable to bear the insult offered to her husband by Daksh, Sati jumped in the sacred fire and died. And a grief crazed Shiva flung the body of Sati over his shoulder and danced the Tandav and threatened to destroy the world.
In her next birth she incarnated her as Goddess Parvati, the daughter of Parvatraj Himalaya and among Nava Durgas she has been referred to as Sailaputri . Maa Shailaputri (Parvati) got married with Lord Shiva. The first and the most prominent among Nava Durgas, Shailaputri is of immense importance and her glories are endless.
Posted By : Vinod Jindal on Mar 17, 2014