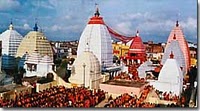 Vaidyanath Temple in DeogarhVaidyanath Temple, also called Vaijnath Temple and Baidyanth Temple is located at Deogarh in the Santal Parganas region of Bihar in the south west of Keeul Station. Baidyanath shrine is revered as one of the twelve Jyotirlingams of Shiva. It is believed that by worship of Vaijnath Jyotirlinga devotees get free from all worries and miseries in life. It is also said that by worshipping in the shrine a person attains Moksha and all types of happiness. Devotees carry 'Kanwars' on their shoulders and complete their travel here.

Legend Behind Vaidyanath Temple

It is said that demon King of Lanka, Ravana meditated upon Lord Shiva, as he wanted to request him to come over to Sri Lanka and make his capital invincible. It is said that Ravana attempted to lift Mount Kailash and take it with him to his capital. However, Lord Shiva crushed it with his finger. Ravana prayed to him and sought his mercy, after which Bhagwan Shiva gave him one of the twelve Jyotirlingams on the condition that if it were placed on the ground it shall fix itself to the ground and shall remain there for eternity. Ravana thanked Lord Shiva and holding the Linga carefully started off to the Lanka. However, Varuna the God of Water entered his belly and caused him to feel an urgent need to relieve himself. Vishnu then came down in the form of a lad and volunteered to hold the Jyotirlingam as he relieved himself. Before Ravana returned, Vishnu placed the Jyotirlingam on the ground and it became rooted to the spot. A disappointed Ravana offered severe penance to Shiva here, and cut off nine of his heads. Shiva revived him and joined the heads to the body, as if by the work of a Vaidya or a physician, hence this Jyotirlingam goes by the name Vaidyanath.

According to another legend, Vaidyanath is one of the 52 Shakti Pitha shrines of Sati. It is believed that the heart of Sati fell here, when her half burnt body being carried by Shiva at the end of Daksha's Yagna was chopped to pieces by Vishnu's discus.

Some people believe that this temple was re-discovered by a cowherd Baiju and hence named Baijnath.

Structure of Vaidyanath Jyotirlinga

Vaidyanath Temple at Deogarh houses a spacious courtyard bound by stone walls. In the temple complex are twenty-two other temples. The Baijnath or Vaidyanath temple faces east. The top of the Shiva Lingam is slightly broken, keeping with the legend that it chipped away when Ravana tried to uproot it. Near the temple is the Shivaganga Lake.

Getting there and Around

By Air - Nearest Airport is Patna

By Rail -The nearest Railway Station is Baidyanath Dham (Deoghar) which is a terminal station of a 7 kms branch line orignating from Jasidih Jn.

By Road - By road Baidyanath Dham (Deoghar) to Calcutta 373 kms, Giridih 112 kms, Patna 281 kms, Dumka 67 kms, Madhupur 57 kms, Shimultala 53 kms etc.