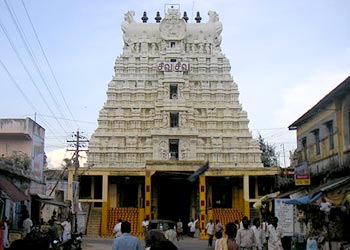 Rameshwaram temple is situated in the island of Rameshwaram, off the Sethu coast of Tamil Nadu and is reached via the Pamban Bridge across the sea. It is one of the 12 Jyotirlinga. It is most famous Jyotirlinga. Rameshwaram Jyotirlinga is associated closely with the Lord Rama.The huge temple is known for its lavish corridors, towers and 36 theerthams.

It is situated at southern end of India. Rameshwaram temple is spread over an area of 15 acres and has lofty gopurams, massive walls and a huge Nandi. It has 4000 feet long pillared corridor with over 4000 pillars, supposedly the longest in the world. The carved granite pillars are mounted on a raised platform.

In Rameashwaram temple the eastern Rajagopuram towers to a height of 126 feet and has nine levels. The Western Rajagopuram is also quite impressive though not as tall as the Eastern one. The temple also has several mandapams with mini shrines to other deities. There is a huge Nandi measuring 12 feet in length and 9 feet in height with the idols of Viswanatha Naicker and Krishnama Naicker. The lingams are housed in the inner section of the Ramalingeshwara.

Significance of Rameshwaram Temple Jyotirlinga

Significance of Rameshwaram Temple Jyotirlinga has been described in Ramayana:

Je rameshwar darshan kari hahi |

Te tanu taji mam loka sidaari hahi ||

Meaning: Those who go to Rameshwar and seeks my blessings shall always reside in Shivloka.

It is said that there is greatness associated with the ceremonial bath given to the linga by water of the Ganga.

Legend behind Rameshwaram Temple

According to a popular legend, it was Lord Rama who installed this Linga here. Story goes that when Lord Ram was on his way to attack Ravana, he reached this place where he made a linga of sand and worshipped it. It is said that when Lord Rama was drinking water on the seashore there was a heavenly announcement - "You are drinking water without worshipping me". Listening to this Lord Rama made a linga of sand and worshipped it and asked to be blessed so that he could defeat Ravana. Lord Shiva blessed him accordingly. He also requested Lord Shiva to reside eternally here so that entire mankind should benefit from it. Shiva then manifested himself as the Linga and got installed there for eternity.

According to yet another legend, while returning to Ayodhya, Ram worshipped Lord Shiva in the form of a Shiva Lingam made of earth by Sita. It is said that Hanuman was entrusted with the task of bringing an image of Viswanathar from Banaras. Anticipating delay in Hanuman's return from Benares, Rama offered worship to a Shivalingam at a pre-chosen auspicious moment. This lingam is referred to as Ramalingam and the town is known as Rameshwaram.

There is yet another Shivalingam here - Viswanathar said to have been brought by Hanuman from Banares. This Shivalingam is referred to as Kasilingam and Hanumalingam. Prayers are offered to Viswanathar before they are offered to Ramanathaswamy.

How to reach there

By Air - The nearest airport is Madurai which is 173 kms.

By Rail - Well connected to major cities like Chennai,Madurai,Coimbatore,Trichy and Tanjavur.

By Road - Connected with all important towns of Tamil Nadu,buses and taxis ply regularly.