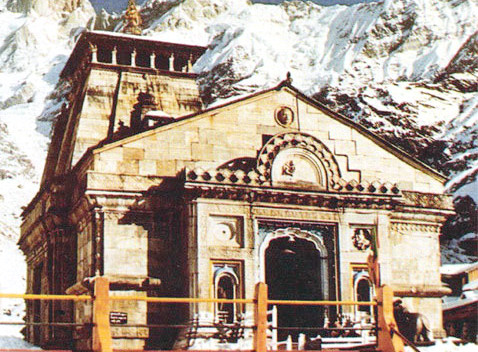 Kedarnath Temple is considered as holiest pilgrimage for hindus. It is located in the beautiful surroundings of Rudra Himalya rane. It is situated at height of 12000 feet on a mountain named Kedar. This place is approximately 150 miles away from Hardwar and 132 miles north of Hrishikesh and is accessible by foot. This templw is open for only 6 months a year (April-November).

It is said that pilgrims first visit Yamunotri and Gangotri and bring with them the holy water and then they worship the Jyotirlingam with the holy water.

It is believed that temple of Kedarnath was constructed by the Pandavas. At the entrance of the temple is the statue of Nandi, the divine bull of Shiva. The temple has beautiful architecture.

Significance of Kedarnath Temple

Kedarnath Temple is one of the 12 Jyotirlingams and is considered to be one of the most sacred pilgrimage centers of the country. It is believed that by praying to Kedareshwar, one can get all his desires fulfilled. Importance of the shrine can be further understood from the beliefs that Upamanyu prayed to Lord Shiva in this place in Satayuga while in Dwapar, the Pandavas worshipped Lord Shiva here. Even the spiritual leader Adi Sankaracharya is closely associated with Kedarnath.

Legend Behind Kedarnath Temple

it is said that Nara and Narayana - two incarnations of Vishnu performed severe penance in Badrikashraya of Bharat Khand, in front of a Shivalingam fashioned out of earth. Pleased with their devotion, Lord Shiva appeared in front of them and said that they may ask for a boon. Nar and Narayan requested Shiva to take up a permanent abode as a Jyotirlingam at Kedarnath so that all people who worship Shiva shall be freed from their miseries.

According to yet another popular legend related to Kedar Temple, Goddess Parvati worshipped Kedareshwar to unite with Shiva as Ardhanareeswarar. Besides, the Pandavas are believed to have visited this area several times. Arjuna is believed to have come here to pray to Shiva to obtain the coveted Pasupataastra. The other Pandavas are believed to have come here in search of him, where Draupadi came across the heavenly lotus Kalyana Saugandikam, and requested Bhima to bring here some more of the same. It was during his venturing out to seek these flowers that Bhima met Hanumaan.

Getting there and Around

By Air - The nearest convenient Air port is Delhi.

By Rail - The nearest convenient railway station are Dehradun and Haridwar. These are well connected with Delhi, Mumbai, Calcutta and rest of India through Rail netwaork.

By Road - Kedarnath is connected by road with Badrinath (242 KM), Dehradun (268 KM), Delhi (450 KM), Haridwar (250 KM), Kotdwar (256 KM), and Rishikesh (226 KM).

Route : Rishikesh to Kedarnath vai Rudraprayag :- Rishikesh -> Rudraprayaga -> Agastamuni -> Kund -> Gupta kashi -> Phata -> Soneprayag -> Gauri Kund.