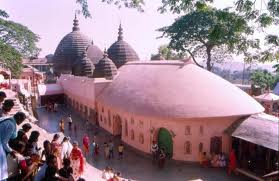 Kamakhya Temple is situated on Nilachal Hill, eight km west of the city Guwahati,Assam The Kamakhya Temple is a shakti temple (shakti peeth) is one of the most venerated Shakti shrines in India. Kamakhya is located on a hill - Neelachala Parvat or Kamagiri near the city of Guwahati in Assam. Shakti, residing on the Kamagiri hill is known as Kamakhya, the granter of desires. Assam traditionally has been known as the Kamarupa Desa and has been associated with Tantric practices and Shakti worship.

One of the most persistent mythologies concerning the origin of worship at the site is associated with the myth of Sati, who was the wife of the ascetic god Shiva and daughter of the Puranic god-king Daksha. Daksha was unhappy with his daughter's choice of husband, and when he performed a grand Vedic sacrifice for all the deities, he did not invite Shiva or Sati. In a rage, Sati threw herself onto the fire, knowing that this would make the sacrifice impure. Because she was the all-powerful mother goddess, Sati left her body in that moment to be reborn as the goddess Parvati. Meanwhile, Shiva was striken with grief and rage at the loss of his wife. He put Sati's body over his shoulder and began his tandava (dance of cosmic destruction) throughout the heavens, and vowed not to stop until the body was completely rotted away. The other Gods, afraid of their annihilation, implored Vishnu to pacify Shiva. Thus, wherever Shiva wandered while dancing, Vishnu followed. He dared not come close to the terrible Shiva, so he sent his discus Sudarshana to destroy the corpse of Sati. Pieces of her body fell until Shiva was left without a body to carry. Seeing this, Shiva sat down to do Mahatapasya (great penance).According to various myths and traditions, there are 51 pieces of Sati's body scattered across the Indian subcontinent. These places are called shakti peethas and are dedicated to various powerful goddesses. Kamarupa ("form of desire") is the region in which the yoni ("vulva," "womb," or "source") is said to have fallen to earth, and the Kamakhya temple was said to have been constructed on this spot.

The current temple structure was constructed in 1565 by Chilarai of the Koch dynasty in the style of medieval temples and then rebuilt in the 17th century by King Nara Narayana, of Cooch Bihar. Images of the builder and related inscriptions are seen in the temple.

Kamakhya is mentioned in the Kalika Purana as the most important goddess of Tantric worship, and is referred to in the text as Mahamaya, the "great goddess of illusion," who takes on many forms depending on her mood. Devotees also call her Kameshwari ("beloved goddess of desire"), and consider her a form of Maha Tripura Sundari, also called Shodashi.