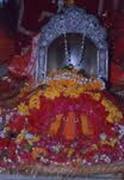 Chintpurni Temple is a major religious place among Hindus. It is situated at Chintpurni village of Una district in Himachal Pradesh. Chintpurni Temple is dedicated to Shri Chhinnamastika Devi or Chintpurni Devi.

Chintpurni Devi is regarded as the Goddess who takes away all the worries of her devotees. The term 'Chhinnamastika' suggests 'without the head'. Here, the Goddess is depicted without her head in a pindi form. Devotees come to this temple with a perpetual faith that the Goddess would bless them and fulfill all their wishes. It is said that nobody goes empty handed from the shrine of Goddess Chintpurni / Chhinnamastika.

Legend

As per one legend, at the time of self-sacrifice, part of Sati's feet fell at this place and subsequently, a temple was built. Since, the temple is associated with the legend of self-sacrifice by Sati; it is regarded as the Shakti Peetha.

History

Pandit Mai Das , a Kalia Saraswat Brahman, is generally believed to have established this shrine to Mata Chintpurni Devi in Chhaproh village twenty-six generations ago. Over time this village became known as Chintpurni after the eponymous deity. His descendants still live in Chintpurni and perform archana and puja at the Chintpurni temple.

According to the Kalia family lore, Bhakta Mai Das's father lived in Athoor village in the princely state of Patiala. He was an ardent devotee of Goddess Durga. He had three sons called Devi Das, Durga Das and Mai Das. The youngest one was Mai Das. For various reasons, the family moved to village Rapoh Muchalian, near Amb (now in District Una, Himachal Pradesh). Just like his father, Mai Das was an intense devotee of goddess Durga and spent much of his time in Durga puja, bhajan and kirtan. His brothers were not too happy with him as Mai Das did not spend much time on affairs of this world. However his father made sure that his worldly needs were met.

Mai Das had got married when his father was still alive. After his father died, his brothers refused to provide any financial support to him. They told him to look after himself and his immediate family. Mai Das had to face many difficulties after he separated from his brothers. However his faith and devotion to Mother Durga remained undiminished as he sincerely believed that Durgaji removes all difficulties for her devotees.

Once Bhakta Mai Das was travelling to the village of his in-laws. After a long and tiring walk, he sat down to rest under a Vat tree in a densely forested area. He dozed off and started dreaming. A luminous and beautiful young girl appeared in his dream and said to him, " Mai Das, stay in this place and serve me. That will be best for you." Mai Das woke up with a start and looked around. He could not see any other person nearby and felt quite confused.

Bhakta Mai Das continued on to his in-laws' house. He was still thinking about his dream. Was that really the Devi? If so, how would he carry out the Devi's command? He arrived at the in-laws' house but did not stay there for long as his mind was quite unsettled.

On his way back, he sat down under the same Vat tree and began to concentrate his thoughts on Durga Mata. He prayed to Goddess. Upon hearing Mai Das's prayer, Durga Mata appeared in front of Mai Das and said, "

I will now appear under this tree in the form of a pindi (a round stone). Perform puja for me every day."

She said, "In the past I have been known as Chhinnamastika. From now on people will also call me Chintapurni as I have removed all your doubts and worries. Chintpurni Devi. The forest cover has diminished considerably. Descendants of Pandit Mai Dass form a majority of the inhabitants of Chintpurni village. Although the village is still called Chhaproh in government land records, it is generally known as Chintpurni after the Devi who resides there.

Tales about the miraculous powers of the Devi have spread far and wide. Thousand of devotees visit the temple every year and particularly so during the Navaratras in Shravan (July - August), Ashvin (September - October) and Chaitra (March-April). Sankranti, Purnima and Ashtami are the other popular days.

Structure

The simple structure of the temple contains the main shrine, where the image of Mata Chintpurni is placed in the form a pindi (a round stone). During the time of Navratras, the temple observes grand fairs and festivity. People from far and near come to visit this holy shrine to seek the blessings from the Goddess. In the past years, the temple has been repaired and modified to hold the huge crowd during festivals.

Nearby Places of Interest

Sheetla Devi temple - This temple is located in the village of Dharamsala Mahantan about 5 km west of Chintpurni. A winding, single lane road leads you there from Chintpurni.

Chamunda Devi Temple - Temple of Chamunda Devi is situated on the right bank of Baner river in Kangra district, Himachal Pradesh. The famous Temple is connected with Dharamshala - Palampur National Highway.

Jwalamukhi Devi temple - Goddess Jwalamukhi is the deity of the flaming mouth. The temple is built over natural jets of combustible gas, believed to be the manifestation of goddess. About 35 km northeast from Chintpurni.

Vajreshwari Devi temple - This temple, which is one of the most famous Shaktipeeths of North India, is located in in Kangra town. About 50 km north from Chintpurni.

Dharamshala and McLeodganj - About 68 km north of Chintpurni is located Dharamshala, the principal township of Kangra district. Its dense pine and deodar forests, numerous streams, cool healthy air and the nearby snowline make it an attractive place. The Dalai Lama (with his government-in-exile) lives in the upper part of town called McLeodganj.

Masroor temples - Located 15 km south of Kangra, this village is known for its monolithic rock temples. There are fifteen richly carved temples in Indo-Aryan style. Only known example of rock-cut temples in North India.

Naina Devi Temple - Temple of Shri Naina Devi Ji is situated on a hill top in Bilaspur District of Himachal Pradesh in India. About 115 km southeast from Chintpurni.

Baba Balak Nath Sidhpeeth - Deot Sidh - Located in Hamirpur district, this shrine to Baba Balak Nath is visited by hundreds of thousands of people every year. Guru Adi Nath, who started the Siddha tradition, is believed to be an incarnation of Lord Shiva.

Some Tips for Devotees

It is customary to cover your head with a handkerchief, shawl or cap while you are in the temple. Please dress in a conservative way. Adults are expected to wear ankle-length clothing.

Please leave your shoes and other leather items (e.g. wallet or belt) outside the temple. An attendant will look after them.

Smoking, chewing paan, gambling or playing cards is not allowed in the temple. Please refrain from entering the temple if you have eaten meat or have consumed alcohol or other intoxicating drinks.

It is extremely impolite to point you feet towards the deities while sitting or lying down in the temple.

Please behave in a courteous manner towards the other devotees. Do not shout or make unnecessary noise in the temple bhavan.

If you wish to make a donation, please put it in the hundi or daan-patra which is so marked. Please donot hand it over to any unauthorized person.

Please help Temple management to maintain a healthy and clean environment. Please put rubbish in the appropriate containers.

Getting there and Around

By Air - The nearest airport is at Chandigarh, which is 120 km away from Shimla that connects Una to all the major cities of Himachal Pradesh and India. From the airport, tourists can hire private taxi to reach Una city. Generally rates are fixed by the taxi union of the local region but still one can go for bargaining.

By Rail - The nearest railway station is at Una, Tourists can hire private taxi or ride shared autos that frequently run between station and Una city.

By Road - Una is well connected by road to major cities of Himachal Pradesh and India. State transport runs their deluxe as well as semi-deluxe buses from Shimla, Chandigarh and Pathankot to Una covering the distance of 240 km via Una - Chandigarh - Shimla. From the capital city of India, Delhi, Una is 375 km away.